It's the time of year that your plumbing is in danger of freezing. Follow these helpful tips to help keep your pipes (and your bank account) out of the cold.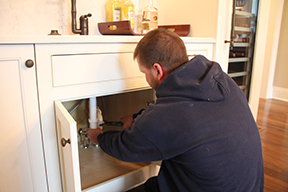 Being prepared and taking preventative action is your best line of defense for dealing with freezing conditions. Here are some helpful tips to keep your plumbing in working order:
Use foam insulation to hedge foundation vents, and know where your water shutoff location is in case the worst-case scenario happens.
If you live in an older house with limited to no insulation over your crawlspace, turning up your thermostat will help push heat through the floor.
It isn't unheard of for plumbing to be vulnerable near a kitchen sink because the wall may not be sufficiently insulated. Opening your cabinet doors can help bring heat from the house to your plumbing.
On nights where a hard freeze is likely, set your kitchen faucet to drip a slow stream of cold water to help keep your pipes from freezing.
If you have a wide-open area where pipes are exposed, using a space heater can work if needed. Please note, however: space heaters can be a fire hazard and should be used with caution. You want the area to be warm enough to keep the plumbing from freezing, not make the area toasty warm.
The best line of preparation defense is finding and locating a place like MJ Frick Company Inc. that offers a money-saving maintenance agreement club that helps with inspection of fixtures and drains. This can lead to saving hundreds or even thousands of dollars as we work to help you ensure your pipes do not freeze and burst due to the freezing temperatures. Contact us or call us at (615) 249-8824 for fast, professional plumbing help.