Heating and cooling might seem black and white, but do you know what to do when faced with a gray area?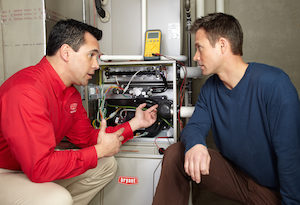 Heating and cooling are very important priorities for homeowners. In the summer, you need a cool retreat from the blazing sun. But in the winter, you want a cozy place to curl up and get out of the cold. The right heating and cooling system can answer both of these demands without skipping a beat, keeping you and your family comfortable and safe year-round.
Here are some facts you need to know about climate control:
Weathering the Storm
Your HVAC system is responsible for three major aspects of home comfort:
Humidity levels
Air quality/cleanliness
Temperature
These three factors combined determine what level of air quality and control you will have on a day-to-day basis. Most people just think of temperature when they think of heating and cooling systems, but you know better.
Understanding more about the operating capacity of your unit means you will be less likely to skip important preventative maintenance measures – upkeep can range from simply changing your air filter on a regular schedule to getting an annual inspection from qualified technicians to troubleshoot before a repair is necessary.
In with the Good, Out with the Bad!
As much as heating and cooling is about controlling your indoor environment, most systems operate in tandem with outdoor elements. Venting hot or cold air out of a house is half the battle when trying to warm up or cool down the indoor temperature. Likewise, keeping the indoor environment well insulated makes temperature regulation more realistic. Homes that lack proper insulation and ventilation are, therefore, much more difficult to heat or cool.
Want help from Nashville's favorite heating and cooling company? Call 615-431-8095 now.