Learning about the latest home improvements and upgrades can keep your utility costs down this summer.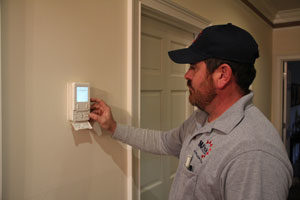 Are you keeping up with home improvements and upgrades? Homeowners know preventative maintenance and upkeep can be a full-time job, and many feel they don't have time to get to everything. But with certain tech updates, taking a few minutes to learn and invest wisely could make a big impact. Smart thermostats are modest accessories to any heating and cooling system that can make a dramatic change.
Summer is the season of vacations. With heat waves rolling in, many families retreat to a beach destination to splash in a different kind of wave! Some hit the highway for a good old-fashioned road trip. Either way, they are out of the house and on to another adventure for a blissful week or two.
Sadly, the responsibilities of being a homeowner don't magically disappear no matter how far away we drive. Make sure you have measures in place to take care of your home so it's nice and comfy when you return.
Temperature control when you are out of the house can be a dilemma – you don't want to pay to keep the house cool with no one around to enjoy it. But you also don't want to come home to a stifling hot mess. What to do? A smart thermostat can give homeowners the perfect middle ground, with remote control access to their indoor temperature settings. A smart thermostat allows cooling systems to be run minimally and on an efficient timer schedule.
Click here to get more information about smart thermostats as well as other home improvements and upgrades that make your home a paradise.