HVAC Inspections in Nashville, Brentwood, Franklin, TN and the Surrounding Areas
Gain Control of Your Energy Bills in Nashville
Once you've decided it's time to optimize your heating and air conditioning units, thorough HVAC Inspections in Nashville, Brentwood, Franklin, TN and the Surrounding Areas is the first step in re-energizing your systems. Our company has been performing these inspections for more than three decades and knows exactly what to look for. Certified technicians will diagnose your system and develop a plan of action that will be a safer, more climate – and bank account – friendly option!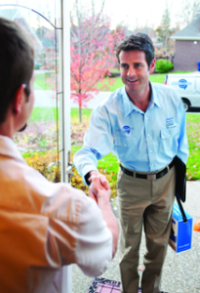 Enough is Enough
ou may have paid one too many high utility bills and decided that enough is enough. It's time to get a professional crew in to take a look at what you can do you lower those utility bills. We understand completely, and we think you're making a great decision.
Now the next step, if you live in Greater Nashville and surrounding areas, is to pick up the phone and call M.J. Frick Co., Inc. today to move the ball forward.
M.J. Frick HVAC Inspection
Our Frick certified technician will come to your home or business at your convenience and perform a comprehensive HVAC inspection of your entire HVAC system, using the latest diagnostic tools, to get thorough understanding of the health of your systems. Then we will provide you with a concise picture of what you can do to get the most out of your HVAC systems and reduce your energy bills.
The M.J. Frick Inspection Report
After HVAC Inspections in Nashville, Brentwood, Franklin, TN and the Surrouding Areas, we will present you with a complete report outlining the current condition of your system, including its operating efficiency. Our Frick certified technician will also evaluate your indoor air quality and suggest ways to enhance it, if necessary. We will go over all our results with you so you can make informed decisions about how to lower your energy bills while enhancing your climate comfort.
The Frick HVAC Inspection is a great way to regain control of your energy bills. Please call 615.431.8095 now to arrange for a convenient HVAC inspection.