Maintenance agreements help keep homeowners on a smart schedule for HVAC system checkups.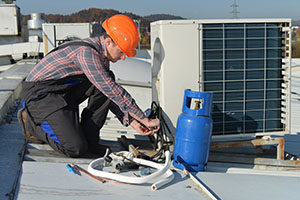 Maintenance agreements are good for many reasons, but a big bonus is that they provide a consistent schedule of regular expert inspections to your home's HVAC system. This means you are much more likely to avoid expensive repairs with preventative maintenance.
Inspecting your air conditioner on a regular basis is essential, especially leading up to very hot or very cold months. Following the seasonal check-up schedule is a good rule of thumb, so you can eliminate any problems with your system before extreme weather strikes. If you have a maintenance agreement, this inspection will already be scheduled as part of your upkeep package. Without a maintenance agreement, homeowners are left to their own discretion and scheduling savvy.
With all the upkeep and responsibility of owning a home, there are bound to be things that slip through the cracks. A maintenance agreement can be a helpful reminder for preventative action on your HVAC system. It also reduces the stress and cost of potential repair situations.
Avoiding an emergency HVAC repair is the main purpose and goal of proper maintenance. Nothing drains a bank account quicker than an unexpected repair expense, especially in the winter or summer when temperatures are at peak intensity.
When you let regular maintenance fall by the wayside, you are jeopardizing the operational efficiency and overall life span of your system. Heating and cooling systems are a big investment; protecting yours with maintenance insurance is the best way to get your money's worth.
Contact the pros at MJ Frick about getting a maintenance agreement that fits your needs this season.