Energy efficiency is more important as the temperatures continue to drop.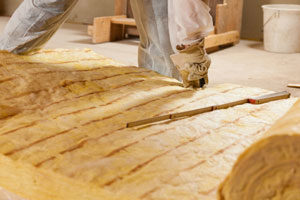 As the winter season continues to ramp up, you may start to notice a draft around the house due to a lack of energy efficiency. Do you find yourself curled up in front of the fireplace with a blanket on your legs and a long-sleeved shirt on for extra warmth? Do you dread walking into your bedroom and climbing into icy sheets, or hate the feeling when your toes hit the chilly tile floor in the morning?
Homes that can't stay warm in the winter are a big problem, and not just because they're uncomfortable. If your home is losing heat, it's either because the insulation is old and worn out or because the air ducts aren't sealed properly. This means you are paying to produce the warm air but your house isn't doing a good job of containing that heat and keeping you cozy. Essentially, it's just dollars down the drain until you do something about it.
Insulate for Enhanced Energy Efficiency
Insulating is a cost-effective way to improve the energy efficiency in your home by about 20%. Insulation can deteriorate over time, and homeowners who suspect they might be losing money to poor insulation need to invest in an energy audit to assess the situation.
An energy audit can pinpoint the exact problem areas in your home, meaning you don't necessarily have to do an overhaul on the entire house. If you take a look in your attic, you shouldn't be able to see the exposed beams. If you can, you are most likely due for an insulation update. As many houses in the south have attics, this is a common issue that homeowners face when the temperatures start to drop.
Click here to get more information about the steps you can take for better energy efficiency in your home this winter.