Home improvements and upgrades can increase the overall value of your property.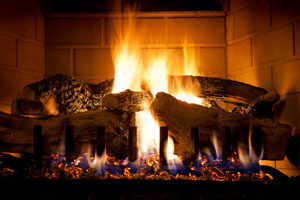 Many homeowners want to refit or modernize their living spaces, and a gas fireplace is one of the most popular features in the world of home improvements and upgrades. Traditional wood-burning fireplaces may sound romantic in theory, but they can be a hassle to use, clean, and ignite. Gathering the logs from your garage on a cold night doesn't sound as appealing as flipping a switch and enjoying toasty warmth in a matter of minutes.
Here are some details you may be interested to know about gas fireplaces:
Gas Installation is Simple
If you already have a traditional fireplace, the conversion process to gas will be a cinch. Gas models can easily be inserted into the existing fireplace hearth space for a natural look. Because of their adjustable temperature settings, these gas fireplace alternatives can also function as basic heaters in your home. This is good news because the initial installation cost might set you back a bit. But overall, gas models conserve more energy and reduce heat loss compared to traditional fireplaces, which lose 90% of their heat through the chimney.
Reduced Maintenance Is a Perk
Once you have the gas fireplace installed, maintenance costs will be next to nothing. This is another great benefit to investing in the eco-friendly alternative; while wood-burning fireplaces often require routine cleaning to address soot and ash buildup, gas fireplaces give you all the best parts of a real fire with none of the smoke or dirt. This is a great feature for families with allergy or respiratory concerns, which can be aggravated by even mild output from traditional fireplaces.
Are you interested in a gas fireplace this winter, or do you have other ideas to enhance your home? Contact our team at MJ Frick to learn more about home improvements and upgrades you should consider.