Learn the benefits of maintenance agreements for your air conditioning system.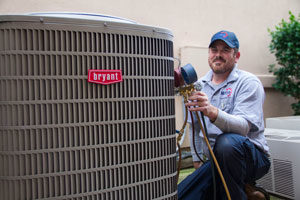 Whenever you make a big investment it's normal to want a guarantee for future satisfaction, and when it comes to your HVAC investment, the closest you get to a guarantee is through a professional maintenance agreement. It may not be a 100% guarantee that your system will always run perfectly, but it can go a long way toward helping you make the most of your investment. You really can't put a price tag on the peace of mind you can get through a maintenance agreement, but you can be sure it will save you money in the long run.
A maintenance agreement includes provisions for preventative upkeep on a regular basis. The fee that you pay for the maintenance agreement and its inclusive maintenance updates is much less than you might be asked to pay if there is an unexpected emergency repair.
Still on the fence?
Summer is right around the corner and already the temperatures are on the rise. Imagine you are enjoying the blissful coolness of your air conditioned home, but the HVAC unit is struggling with your sudden demand to produce cool air on a more regular basis. Imagine walking in after work one day to a hot, muggy home. You air conditioner won't turn on and now you have to deal with an unexpected repair expense on top of the hassle and discomfort of your broken unit.
All this can be avoided with a maintenance agreement! When the seasons change, the heating and cooling system starts using a different set of equipment and might need a tune-up to spot any potential mechanical issues. Dealing with these hiccups before they become full-blown problems will save money and frustration.
If you are ready to make the most of your HVAC investment, get more information on how to take advantage of cost-saving maintenance agreements.