Looking for a creative way to make some home improvements and upgrades?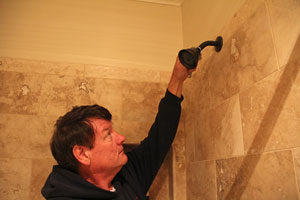 New bathroom fixture installations are an exciting and easy way to make home improvements and upgrades. If you want to add an element of luxury to your bathing experience, a new shower head is a simple way to spice things up and create your own personal spa. Here's what you need to know for this installation:

Hot Water and Water Pressure
Make sure the piping conditions in your house can accommodate the division of power between additional shower heads. If you don't have the water pressure to successfully operate both shower heads at the same time, your shower makeover will be a little disappointing. The average shower head uses 5 gallons of water per minute.
Waterproofing
Check that your shower head placement is ideal before installation. Check where the new water runoff will be taking place, and make sure it doesn't hit any tiles or grout that haven't been waterproofed.
Shower head Selection
Picking the shower head of your dreams should be the easy part! But do a little research and try to pick something that will go well with the shower you already have. For example, if you already have a traditional shower head on the wall, then consider a rain feature for the ceiling. Some styles of shower head require less water pressure, especially if they are designed to simulate rain.
Installation
You are on your way to a home update that will increase the overall value of your bathroom and also improve usability for your family.
MJ Frick plumbing experts are ready to assist you with your home improvements and upgrades today.