Finding the right heating and cooling system for you home can be confusing. Here's some info to make it easier.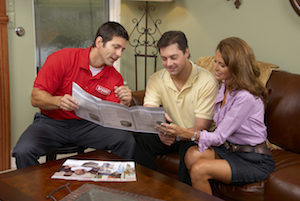 There are many different heating and cooling system options for your home or business. However, finding the right solution to meet your specific and unique needs is like finding the right gal for the glass slipper – you have to make sure it's a perfect fit, or else you could be in trouble. To make sure your Cinderella story has a fairy tale ending, we're here to catch you up on what you need to know about heat pumps.
How Does a Heat Pump Work?
Heat pumps are designed to heat and cool your whole house. An electric heat pump is often combined with a supplemental natural gas heat pump component. They don't burn fuel, but rather use electricity to transfer heat from one area to another.
Will Heat Pumps Keep Me Warm?
Yes! But that's not all they are good for. Heat pumps keep you warm in the winter and cool in the summer. They are most ideal in areas with milder seasons, but even in areas with extreme temperatures, heat pumps are an effective supplemental heating and cooling measure.
How Effective are Heat Pumps?
Heat pumps require electricity to operate; this makes them a more sustainable option than heating and cooling systems that run on finite resources like oil and gas. Natural gas costs are higher than electricity, so investing in a heat pump in will reduce energy costs in the long term.
Contact the experts at M.J. Frick Co. with other questions you might have about heating and cooling systems.