Set yourself up for success during the process of home improvements and upgrades.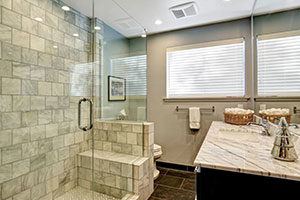 From time to time, homeowners need to consider home improvements and upgrades as essential investments to keep them safe and comfortable in their living spaces. As families grow and change, their homes reflect that. As the months and years pass, houses begin to experience more wear and tear and gradually start to feel more and more outdated. In addition to keeping a home safe and comfortable, remodeling can also enhance marketability and style.
But where do you begin when faced with the daunting prospect of remodeling? A great place to begin is by remodeling a bathroom. It's one of the most popular places in the home and a few changes can make big improvements. Here's what you can expect:
Cost: A Story of Materials and Labor
Chances are, the average homeowner isn't qualified to do the kind of work included in a total bathroom overhaul. Fixtures and installation will therefore be two of the primary factors in budgeting for this project. It's a general rule of thumb to buy your own appliances – finding deals on sinks, bathtubs, and other large fixtures could save you up to a thousand dollars. Plus, you want to exercise creative discretion and control how your remodeled bathroom looks.
Water Lines
While one side of the remodeling coin is dictated by aesthetic design and cost, the other is all about taking technical aspects into consideration. This is where the real risk comes into play and why it's a smart move to have the best plumbing and electric technicians working to avoid inconvenient mistakes. Water lines are a delicate thing to navigate, especially when waste lines are involved. You don't want to cross the wires and have water flowing the wrong way!
Overall, bathroom remodeling is a fantastic investment in home improvement. Taking some time to plan accordingly, draw up a budget, and find trustworthy technicians to partner with you for the duration of the process are all vital to a successful experience.
If you are ready to move forward with home improvements and upgrades, work with the pros at MJ Frick.