Don't let complicated home improvements and upgrades get the better of you!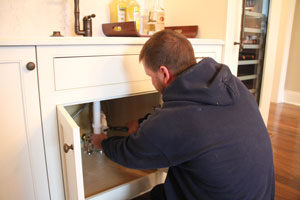 If you are naturally handy, home improvements and upgrades are probably a joyful, exciting prospect. But not everyone thinks of these little projects as fun. In fact, for the technically challenged, a kitchen fixture installation might sound like a nightmare. Throw in a water line installation component and forget about it! But it doesn't have to be as bad as you think.
Installing a sink in your kitchen island can make a huge difference in the amount of functional space you have for cooking. Having the sink on your kitchen island can also open up the space so you don't have to turn your back on guests when entertaining. Many homeowners choose to make the change if they have the available counter space, but the technical prospect can be a bit daunting.
Here are some factors to consider as you make plans to install a kitchen island:
A Question of Space
The first thing to consider is how much available storage space you have and what kind of water line access your kitchen island gets. A sink will require enough depth in the storage area to sit comfortably, plus water supply to work. Branching off from the current water supply feeding your main kitchen faucet can usually be done with a little pipe rerouting.
Plumbing for Less
By using the existing pipes you will save money that would otherwise be spent on brand new plumbing work, which can be costly and time consuming. When you are trying to decide where to install the sink, keep this in mind so you don't wind up with an overly complicated drainage situation. When in doubt, get input from an experienced plumber or home technician.
Click here for more information from our expert team at MJ Frick abut the best way to tackle home improvements and upgrades.